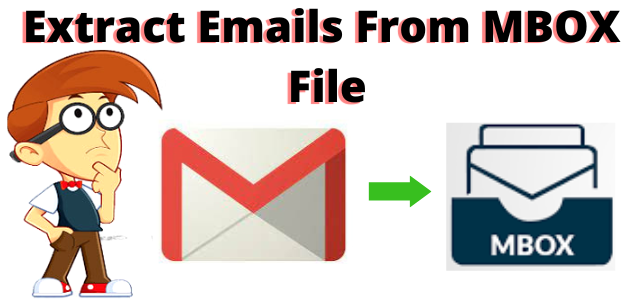 MBOX file is an email mailbox, saved in a mail storage format that lists an entire inbox's messages in a single text file. It saves messages in a concatenated format where each message is listed after another, starting with the From header. As MBOX files were originally used only by Unix hosts, other email applications, including Apple Mail and Mozilla Thunderbird, now also support them.
Are you seeking to know the solution to extract Emails from MBOX files? Then, this article is for you. Here you get a complete and reliable solution for extracting multiple Emails from MBOX file formats easily.
Now, let us move towards the solution for the same!
Can I Extract Email From MBOX File?
In this method, you can extract data from the MBOX file in the EML file extension. To do that, you just drag and drop the desired emails from Thunderbird to any specific location. And, if you have a bulk email, then you need to drag and drop each file one by one to a particular location in EML file format. For this use manual & automated methods to extract emails from MBOX file
How to Extract Emails As MBOX File Format Manually?
The manual method allows users to extract single emails from MBOX file formats. And, drag and drop each file one by one to a particular location.
Step 1: MBOX Data Extraction Using Add-on
Firstly, Open Thunderbird and install the Free Add-on.
Now, find the ImportExportTools in the Add-ons Manager window
Search for ImportExportTools NG and tap on Add to Thunderbird
After that, hit on Install Now and restart Mozilla Thunderbird once again
Now, right-click on local folder and select ImportExportTools NG >> Import MBOX File
Choose the emails to Extract data from MBOX in PDF
Right-click and then, choose to Save selected messages >> PDF format (You can choose other extract options as well)
To specify a saving location for the data and hit Select Folder
At last, you can see that you have exported the MBOX file to PDF format.
Drawbacks of Manual Methods
It has limited formats to extract data from MBOX files.
Therefore, it requires you to add data in thunderbird first which may compromise the email properties.
There are lots of steps involved; hence a time-consuming method.
Necessary to have technical supervision to carry out the process.
Your email attachments are discarded during the task.
This is a completely manual method to Extract Emails from MBOX file formats. But, it has its own limitations to performing manually. So, we suggest you use our software for extracting emails from MBOX files. In the next section, we will discuss the automated solution.
Extract Multiple Emails From MBOX File – [Automated Solution]
Use the Free Conversion Solution For MBOX to PST Software. This tool permits the user to see Mailbox files without any email client installation. In addition, the utility is associated with amazing functionalities which makes it seamless for the user to work with the software. It is integrated with different preview modes, advanced search options, etc.
Therefore, one can easily extract emails from an MBOX file along with the attachments. It provides multiple preview modes to view the MBOX files free such as Normal Mail, Messages Header, HTML, Hex properties, etc. However, the user can also search for a particular MBOX email via the Search option.
It also permits the users to batch extract emails from MBOX files into portable document format. This tool has a user-friendly interface for easy-to-understand and work with. To perform this task the users have to follow the step explained in the below section.
Working Process Explained For the Software
Following are the steps to Extract the multiple emails from the MBOX file format easily and simply. Go step-by-step using tools!
Launch and install the software. And, click on the "Add File" option present at the top.
Then, browse the MBOX file which you want to view
To see the multiple Preview modes
From the Export, options choose PDF format
Finally, click on the Export radio button.
If you are looking for an easy solution then, we suggest you use an automated solution to make your task easy and quick without any hassle. There are no limitations to using this software.
Author Suggestion
Extract Emails from MBOX file formats. Here, you get a complete solution using two methods to solve the issue of extracting emails from the MBOX format. The manual method is a time taking process and has its own limitations to perform the task. It cannot allow users to extract multiple emails at a time.
But, don't worry, we also suggest automated software which is an easy and simple solution to extract multiple emails from MBOX file formats. It helps you to solve the problem of extracting multiple emails from the MBOX format easily. And, there is no limitation to performing the task and both technical & non-technical can easily complete their task without facing any trouble.