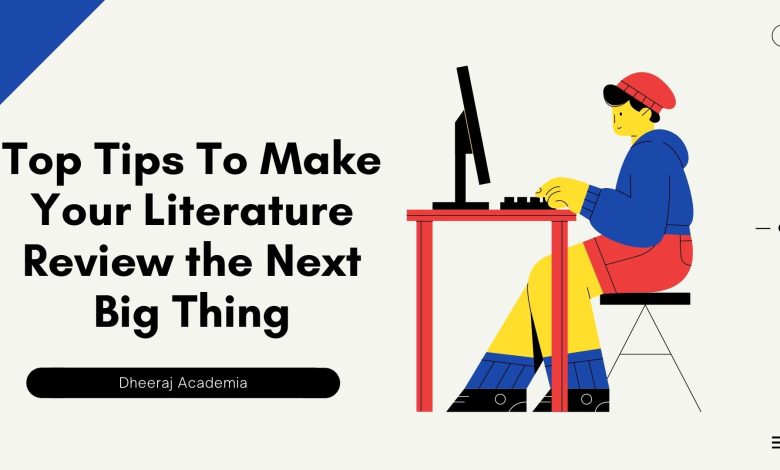 Sometimes we come across a literature review in some prestigious research journal and wonder; What makes this review worthy of publication? Also, can we examine literature that might be publishable for the millions of subscribers reading the magazine around the world? Well, the knowledge of the subject and the many studies that have been carried out in the background are certainly incomparable, but the secret to a successful publication is certainly more.
Part of the literature research is guiding concepts and working on a set of rules that convey the knowledge and ideas we have developed on this topic to the reader. We must remain impartial about the strengths and weaknesses of this issue. The guiding concept should accurately reflect the purpose of our research, the problem or problem of our discussion, or the argumentative thesis. This is not just a descriptive list of available materials, or rather a series of abstracts. It's more than that, and we're going to cover the same here.
These tips will help you with future literature research:
Expand your search
You've been thinking about your research question for days, maybe weeks. So maybe your thinking is too narrow. You may have drawn very strict mental boundaries for your research question. As a result, you may not be able to see other areas of research that may be relevant to your article, even if they are not directly related.
For example, your research question is whether plastic can be composted. After endless searching online, you only get two articles on the subject. You have the advantage! They understand that your research will fill a huge gap in this area of ​​research. This gives you the benefit of making a more significant contribution and recognizing the importance of your work. But you are already worried about what will be in your literature review section.
If you need to broaden your search, you can find the relevant literature to support the above hypothetical research question. For example, you can look at the processes that make plastics biodegradable, or you can look for other materials, such as plastics used in compost. Neither field is directly related to your research question, but they certainly offer a good foundation on which to build.
Applying the right keywords
Are you having trouble finding the most appropriate source of information? This can happen due to the use of inappropriate or unrelated keywords. It is always desirable that the keywords align with the research article we are looking for. Now that we have our research questions, it is time to formulate keywords for each concept.
For example, if our research area is childhood schizophrenia, certain keywords we might use might include "schizophrenia", "childhood schizophrenia", "early-stage schizophrenia", or "early symptoms of schizophrenia". Changing the order of keywords can produce completely different results. For example, if we search a search engine with the keyword "symptoms of schizophrenia in children", we will get different results with the keyword "symptoms of childhood schizophrenia".
As we struggle with the correct use of keywords, it is time to assign tasks to them which is the most optimal choice for a particular role. Hire a literature review writing service from an academic writing agency that can produce reliable results without the slightest hesitation.
 When you find a suitable article, study it carefully
A limited number of links can help you – these will give you a short but comprehensive list of articles for you to review in detail. You can spend time checking the details of each article because you don't have a full list of links to go through. There's absolutely no need to be picky about constantly worrying that you've left an article that could later be of great importance to your research.
In addition, if there are few resources in your particular area of ​​research, many fundamental questions remain unprocessed and answered. If so, you can find limitations in the existing literature and use them to build or improve your own research questions.
Follow the quotes carefully
The citations mainly refer the reader to previous rational research in a particular field. By accepting a citation or reference, we acknowledge that sources from other articles have been used. Article citations can be followed up by searching forward or backward. The inclusion of reference sources not only increases the credibility of our publications tenfold but also prevents future accusations of plagiarism by the actual owners of the source material.
What's interesting is that citation forwarding is primarily responsible for searching through all the articles that refer to a particular article. On the other hand, the practice of reverse citation helps us to find all the references that are cited exactly in an article. This form of search reappears in time to see what led to the article we started.
It should be noted that the recommended style should be used after a detailed discussion with the publisher. Certain forms of citation style are used for global research journals and reviews will only be submitted in this format. To make the entire reference section perfect, never hesitate to ask a professional assignment editor for help.
Get help
Seeking professional help from official and accurate sources is 100% legal and recommended. Finally, if we're trying to get our review project going anywhere, then it's time to leave the whole task to the experts. Online literature search assistance from a trusted assignment writing agency can change the game.
Authorized agents will offer 100% legitimate services at the most affordable prices. The best part about using a reputable online agency literature review writing service is that you do not have to worry about the availability of information. These bodies have their own databases with reliable access to all the leading research journals and publishers. Hiring the services of such an agency is not a bad business at all!