Overview: After a system crash, Outlook data files may become corrupted or damaged. This post will teach you how to retrieve Outlook data after system crash. You will also learn the step-by-step procedure for repairing a corrupt/damaged Outlook data file and retrieving the data.
System crashes are unpredictable and can occur for a variety of reasons. Malware infection, a failing hard drive, a corrupted Windows Registry, and other common causes of system crashes are listed below. A system crash is one of the most common causes of damage or corruption to Outlook data files (PST and OST). As a result, you can't access the Outlook data stored in these files. In this post, we'll go over how to recover Outlook data after a system crash that may have damaged or corrupted the OST file.
Losing all of your contacts, emails, appointments, tasks, notes, and journals from Microsoft Outlook can be disastrous. It is a step backwards and limits your ability to deal with personal and business needs. For example, if you run a business, losing your clients' emails disrupts communication and may result in lost orders. Personal contact information, which you use to communicate with family and friends, is also critical and cannot be overlooked.
How to Get Data from an Outlook OST Data File
Here is the top solution to retrieve Outlook data after a system crash. In order to know them and recover your email data, read this write-up till the end.
1. Repair an OST file with ScanPST.
If your Outlook is set up with an IMAP account or an Exchange server, your Outlook data is saved in an OST file on your local storage. If the OST file becomes damaged or corrupted as a result of a system crash, you can repair it with ScanPST.exe. This built-in Microsoft utility checks for errors and attempts to repair the file. Prior to Outlook 2010, Microsoft provided an OST repair tool called ScanOST.exe. ScanPST can now be used to repair both PST and OST files.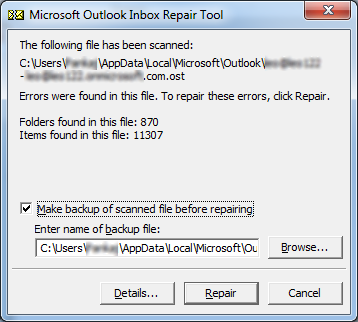 2. Using a Third-Party Tool to Retrieve Outlook Data
If the Outlook OST Data File becomes orphaned or inaccessible due to a system crash, simply delete the old OST file and connect to your Exchange mailbox to recreate the OST file. You cannot recover data from an old OST file that has not been synchronised with an online mailbox by recreating the OST file. Instead, you must convert OST to PST format before importing it into Outlook. To export OS file into PST quickly and easily, use a dedicated tool such as OST Converter. This is an impressive solution because it offers simple steps, quick processing, and dependability.
Your OST file has now been exported in a PST file and is ready for use. You can now import the PST into your Outlook account.
Importing a PST file into Outlook 2019/2016/2013/2010
Open Microsoft Outlook and navigate to File >Open & Export > Import/Export. The Import and Export Wizard window will appear.
Choose Import from another programme or file and then click Next
Select Outlook Data File and then click Next
 Browse and find the PST file (converted from OST), then click Next
 Decide which folders you want to import and then click Finish
Outlook 2007/2003 for Microsoft
Open Microsoft Outlook and navigate to File >Open & Export > Import/Export.
2. Select Import from another programme or file and then click Next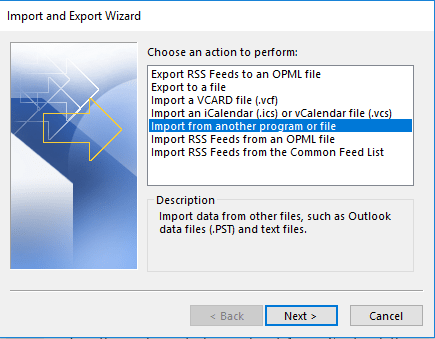 3. Click Personal Folder File and then click Next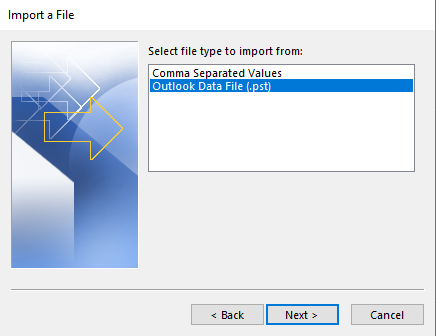 4. Browse and find the PST File and after that click Next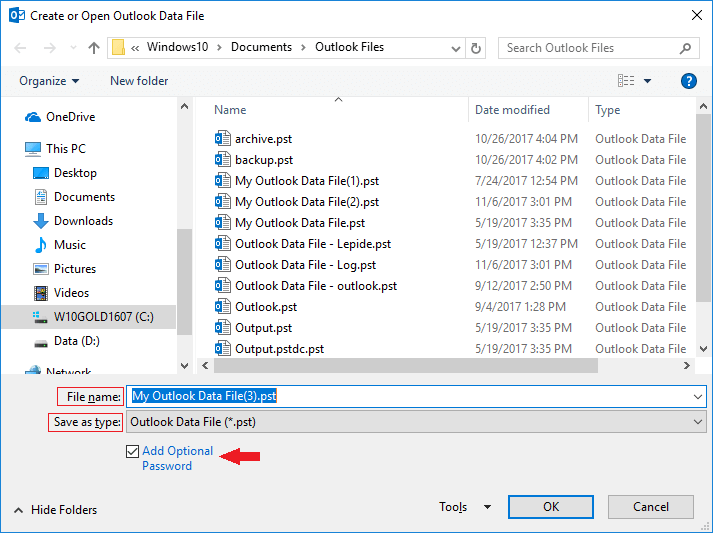 5. Select the folders that you want to import and then hit on Finish button.
Conclusion
Outlook is the most popular email client application, and it can store a large amount of data. However, it, like all other applications, is vulnerable to corruption in the event of a system crash or malware infection. If your Outlook data files become corrupted or inaccessible as a result of a system crash, you can use the techniques described in this post to recover Outlook data and import the repaired files into Outlook. Along with it, you can also export OST files to MBOX, PDF, and other file formats using above mention third-party application.
To Read More Such Article: Read Here